Canonical
As the leader of the Ubuntu Project, Canonical knows Ubuntu inside out.
Canonical was created alongside Ubuntu to help it reach a wider market. Our services help governments and businesses the world over with migrations, management and support for their Ubuntu deployments. Together with our partners, we ensure that Ubuntu runs reliably on every platform from the PC and the smartphone to the server and, crucially, the cloud.
Using Ubuntu in the Public Cloud
Ubuntu Server is the world's most popular cloud operating system. And Ubuntu is the leading cloud guest OS, running most workloads in public clouds today, thanks to its security, versatility and policy of regular updates. With certified images backed by Canonical, it is the only free cloud operating system with the option of enterprise-grade commercial support.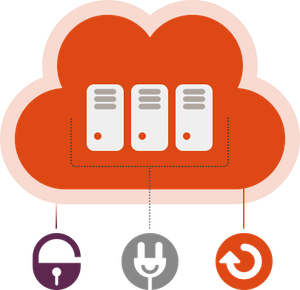 Ubuntu Certified Public Cloud
As an Ubuntu Public Cloud Partner, Zetta.IO offers the latest Ubuntu images, for an optimal, consistent and efficient developer experience on the world's most popular cloud operating system. These Ubuntu images are secure, easy to port from other partner clouds, as well as receive regular updates.
Our users will be able to enjoy further peace of mind by purchasing Ubuntu Advantage guest support.
Ubuntu Advantage with Landscape
Ubuntu Advantage is the professional support package from the experts at Canonical, helping organisations around the world to manage their Ubuntu deployments. It includes access to Landscape, the systems management tool for using Ubuntu at scale, as well as 24/7 telephone support and the option of a dedicated Canonical support engineer. Ubuntu Advantage subscription tiers are based on the size of your deployment and the support you need.
Systems management: Landscape
With the Landscape systems management tool, you can automate updates and manage physical, virtual and cloud-based systems from a single interface. It's easy to set up, easy to use and requires no special hardware. It features:
| | |
| --- | --- |
| Management at scale | Role-based access |
| Deploy or rollback security updates | Informative monitoring |
| Compliance reports |   |
24/7 support
The Canonical Technical Services team provides around-the-clock coverage for Ubuntu deployments all over the world. Telephone support gives you access to engineers with first-hand experience of your issues, while the online portal lets you track the progress of cases in real time.
Technical library
Exclusive to Ubuntu Advantage subscribers, the Canonical Knowledge Base is an online library of articles on technical issues including security, migration and networking.
Customer login
Already a Ubuntu Advantage customer? Access the support portal or Canonical's hosted Landscape service.